What kind of barbecuing do you do? Here's help selecting the right kind of BBQ meat thermometer depending on where you do your grilling and how big your grill surface is.
T Stick Disposable Meat Thermometers
Best for large tailgate party or commercial use – can save T stick for HACCP records


Set of 10 – $5 from Amazon
single-use, cardboard food service thermometer designed to check the internal temperature
Available in choice of temperatures
Can be saved after use for HACCP records
Single-use design prevents cross-contamination
Stick Dimensions: 2 1/2″ long
Steak Station Digital Meat Thermometer
Great for the backyard grill when everyone likes their meat cooked to a different doneness.


Steak Station Digital Meat Thermometer $29.95 at HomeWetBar.com
Use in the grill or the oven
Monitors up to four steaks simultaneously
Has four colored probes on a 22½" long cable to reach easily across the grill or oven
temperature range from 115°-170°F eliminates the guesswork
Steak Station Digital Meat Thermometer requires 1 AAA battery, not included, gift packaged
Weekend Warrior Meat Thermometer – Set of 6
Perfect for tailgate party or backyard party to grill 6 items simultaneously to perfection. Best for large grill surfaces.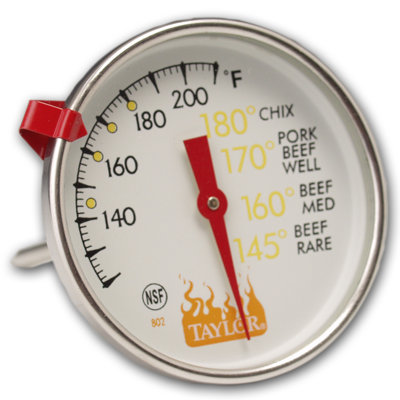 Set of 6 Thermometers – $71.96 from Wayfair
Deluxe stainless steel 2.875″ dial
Stainless steel 4.5″ stem
Glass lens
Preparation scale for various meats
Bonus: free one year subscription to Martha Stewart Living
*Please note that some of the links on this page are affiliate links and we will receive a small payment from the store if you make a purchase – for which we thank you. Prices are quoted as of the day we wrote this article and are subject to change.

Did this help you?
Get our updates delivered directly to your inbox so you won't miss a thing.

Know someone who would love this information?
Do you know someone who would love to see this? Please share!