Looking for the sweetest monkey costumes for baby and toddlers? We searched the world wide web and found the best for your adorable little monkey.

Monkey Baby Costumes from Birthday Express
Plush Monkey Infant Costume
$36.99 from Birthday Express
Costume includes hood with ears, suit with tail, and feet. 3-piece set. Polyester.
Available in sizes:
Baby Monkey Costumes from Costumes4Less.com
Fully lined in tan baby soft fleece. Includes: Character headpiece with front Velcro closure, detailed piping around the face opening and fabulous embroidered ears padded and lined in salmon pink. Character bodysuit with back snap closure, in exclusively woven brown fabric, salmon colored cuff accent and attached tail. Character booties, fun feet with salmon colored toes with embroidered details.
---
Keep it simple with just monkey ears! Headband for him or her.
Baby Monkey Costumes from Costumes Craze
Little Baby Monkey Costume
$59.37
This Super Deluxe Little Monkey Costume for infants and toddlers features the completely lined and zippered bodysuit with attached tail and with snap leg closures for easy diaper change, booties with skid resistant bottoms and the hood with ears. Booties are for indoor use only.
---
---
Kids Monkey Costume
$32.99
This Monkey Costume includes the soft plush brown zipper monkey costume jumpsuit with attached feet and a light tan tummy, and the attached hood complete with two light brown monkey ears. Plush banana not available.
---
Baby and Toddler Melvin Monkey Costume
$31.34
This Baby and Toddler Melvin Monkey Costume includes the soft, padded, plush accented romper with a dark brown body and tan belly, as well as a matching hood complete with two little monkey ears.
---
Kids Going Bananas Monkey Costume
$24.74
This Kids Going Bananas Monkey Costume is ideal for babies! It has a
snap-inseam
jumpsuit, attached elastic strap mittens and snap-on hood, and a
banana bottle holder
.
---
Baby Monkey Costume
$29.87
This adorable Monkey Costume includes the headpiece and the jumpsuit with attached feet.
---
Fez Monkey Baby Costume
$23.09
This Baby Fez Monkey Costume includes the dark brown plush jumpsuit with a light brown belly and cuffs, brown tail, attached bright red vest and the attached hood with light brown monkey ears and a little red fez with a bright yellow tassel.
Little Monkey Costumes from HalloweenCostumes.com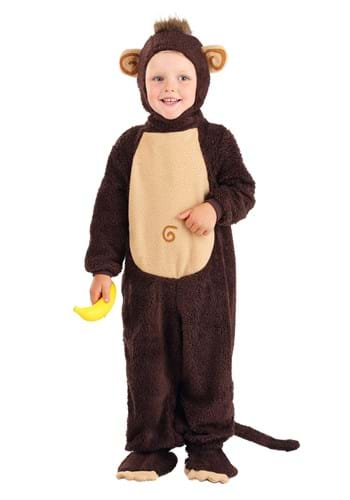 Toddler Funny Monkey Costume
$28.99
He's always up to some sort of monkey business. Now your little one can jump around he house in this Toddler Funny Monkey Costume. This is a cozy and comfortable one piece costume.
*Please note that some of the links on this page are affiliate links and we will receive a small payment from the store if you make a purchase – for which we thank you. Prices are quoted as of the day we wrote this article and are subject to change.
Did this help you?
Get our updates delivered directly to your inbox so you won't miss a thing.

Know someone who would love this information?
Do you know someone who would love to see this? Please share!